The Luscious Knife Paintings of Mallo Bisset
The title of my first solo art show. Specializing in the palette knife, my paintings are often highly textured and almost always full of color! Here is a sampling of my work. I hope you enjoy!
However, in order to truly appreciate my art I recommend you come by my shop/ gallery to see my latest works "in real life."  A photo can rarely do it justice.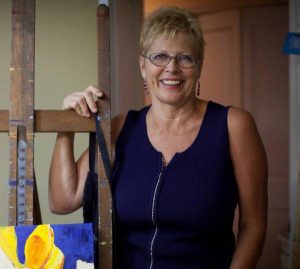 My artwork celebrates the things that make me happy.  While my subject matter does vary, I am greatly influenced by my love of color, animals, and nature.  I have always lived close to the sea, so water and the color blue seem to be a part of me and often make it onto my canvas. When I get an idea for a painting and I can't stop thinking about it, I know it's time to get to work.  Often it's these obsessive moments that lead to the best work.
The most rewarding feeling is seeing a smile on the face of someone viewing my work and nothing compares to the satisfaction of having someone bring home a piece of my work. Hopefully, my artwork makes you happy too!
Mallo Bisset
---
Where to See and Purchase My Work
I am lucky enough to have my own shop/gallery in which to display and sell my work in. Please visit me at my shop: Red Barn Furniture in Stuart, Florida. Owning my own space allows me to avoid having to pay a commission to a gallery which keeps my prices surprisingly affordable. Visiting the shop is the best way to see my latest work. Click on individual images below for further details on each painting. Some originals are sold, however, most Art featured here is still available as Prints, Greeting Cards, or Giclees. Prices vary depending on the print material and size.
Don't Miss A Drop, Facebook Has The Latest Paintings! !